ACE YOUR TECH INTERVIEWS
DREAMING OF A TOP DEV JOB? YOU'VE COME TO THE RIGHT PLACE.
Learn about algorithms, system design and soft skills.
Gain confidence and excel at your tech interviews.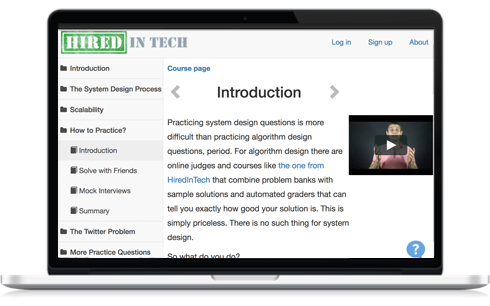 PREPARE FOR YOUR INTERVIEWS WITH THESE COURSES
SYSTEM DESIGN
Learn our 4-step process to cracking any system design question. Master the principles of building scalable systems. Look under the hood of Instagram, Salesforce.com, and others to see how they serve millions of users every day.
ALGORITHMS
Meet the Algorithm Design Canvas - our secret weapon to solving any algorithmic problem. Learn the fundamental theory of algorithms - all you will need on the interview. Use the most efficient way to practice.
SOFT SKILLS
Put yourself in the shoes of the interviewer and see why many candidates are rejected even if they ace the coding problems. Avoid the 5 mistakes most people make and learn what else besides coding will get you hired.